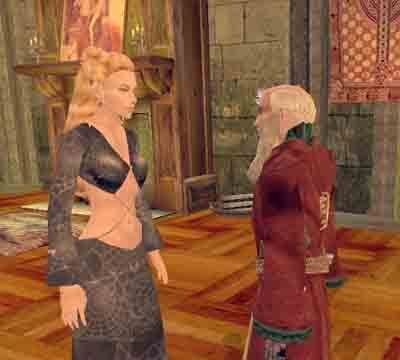 "Oh dear!" she exclaimed, "You've found the note? Oh, please, hear my tale before making your decision."
"Certainly," I replied, "I'm all ears."
"I know that what I have done is enough to have me put to death, but I wouldn't take it back for a second. I love Einar with all of my heart, and wish to marry him. You are the ruler of this castle now, Eldorf Dragonmeal, and only you can decide my fate. What shell become of me for my misconduct?"
Well, of course, that oath was to the previous owner of the castle, not to me. I felt there was no longer any need to keep these two lovebirds apart.
"I am releasing you from your oath and servitude and I give me blessing to your marriage." I said, giving her a hug. The look of joy on her face was beyond description.
"Oh, thank you!" she said, relieved. "I will gather my things at once and go to my love! May the gods bless you for all eternity!"
Another good deed for the day. I am such a nice guy. . .modest, too.