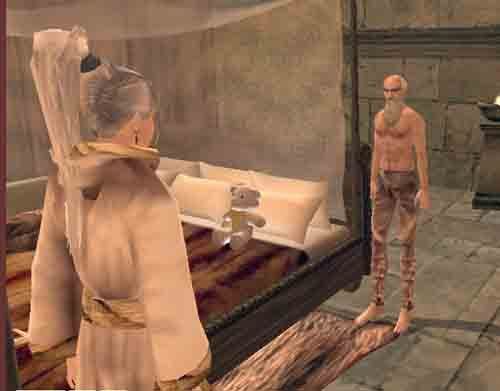 We made ready for bed.
"You're right." she said. "I'd have been up all night dancing if you hadn't pulled me away."
She looked around the room.
"At least, you finally got rid of that dancing girl." she said. "What ever happened to her?"
"Oh, she's getting married to the weapons trainer." I replied.
"Well, good for her." the said. "I didn't much care to have a dancing girl in here, anyway."
As she crawled into bed, she started to laugh. "Eldorf, the Wise, slayer of dragons, defender of the innocent, Master Mage, killer of monsters, all-around good-guy. . .and sleeps with a teddybear."
"Well, we all need our 'creature' comforts. I said. Now, come here, teddybear. I have some war stories to share with you."