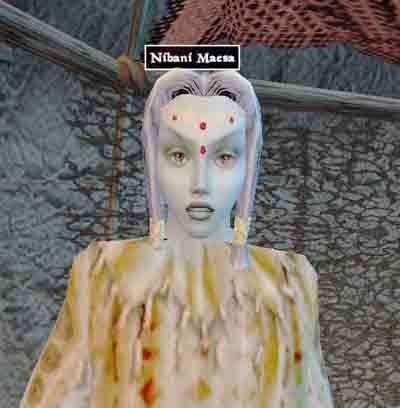 "I am ready." I said. "What have your ancestors told you?"
She stared at me, with a piercing eye that could cut you in half, as if to imply that what she had to say was of the utmost importance.
"The ancestors and stars have given me clear signs." she said. "The lost prophecies leave no doubt - the Incarnate shall be an outlander. You, blessed by Azura, must lift the seven curses of Dagoth Ur. Prophecy has shown that the seven steps of the Nerevarine's path, and I have been chosen as your guide for each step on that path. I will read the signs, and show you the way. It is time for you to walk the path of the Seven Visions, and pass the Seven Trials of the Seven Visions."
She composed herself for a moment, then continued. "You are born on a certain day to uncertain parents. So you have passed the first trial. My dreams show me that you also fulfill the second trial, that 'neither blight nor age can harm him/The Curse-of-Flesh before him flies'. I have read the signs, but I cannot understand. Can you explain this to me?"
I hadn't expected to add any of my own input on this issue, but explained to her about how I had contracted corprus, and was later cured, still having the disease, retaining the ability to resist all other disease but no longer suffering from it's terrible effects. The stunned look on her face was most rewarding.
"That you have overcome the Curse-of-Flesh is strange enough," she replied, "but that it should protect you from blight and age is past belief. Yet the signs of my dreams are clear. You have passed the second trial. But the third trial is unfulfilled. The mystery of the third trial is not my secret to share. Go to Sul-Matuul, the guardian of our cult, and he shall tell you of the third trial. When you have fulfilled the third trial, return to me for guidance on your next steps on the path of the Nerevarine."
"What exactly IS the third trial?" I asked.
"In legend, there is a shrine to Azura called the Cavern of the Incarnate." she replied. "There are secrets I may not tell you about this cavern. Do not ask."
Well, I never argue with a Wise Woman, and I wasn't about to start this bad habit now.