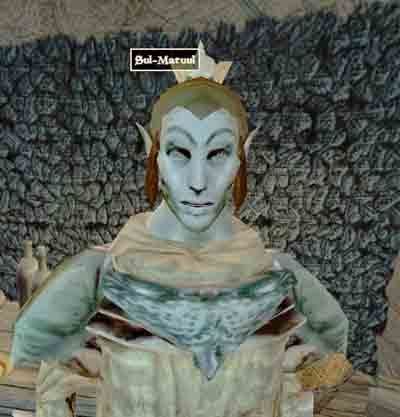 He shuffled around a few pieces of paper on a table, finding one with a small map scribbled on it. He looked it over, nodded to himself, then turned back to me. "Nearby lies Kogoruhn, the ancient halls of the forgotten house, House Dagoth. In recent time, creatures of the blight have come to dwell there. I myself went there, with some brave hunters, and came back again, but it was a bad place, and I am not ashamed to say I was afraid, for myself, and my men. If you would have from the the secret of the Third Trial, the 'caverns dark' where Azura's eye sees, you will first bring to me three tokens from dark Kogoruhn."
I glanced at Laurenna, and she gave me a nervous look in return. I looked back at Sul-Matuul, took a deep breath, and decided to press on with this task. "What would these tokens be that you have need of?" I asked.
"The first token is corprus weepings from a corpus beast, to show that you are proof against the disease's corruption."
"The second token is a cup with the mark of House Dagoth, for I have myself seen such cups there, and I will know you have seen with your eyes what I have seen with mine."
"The third token is the Shadow Shield, which lies on the tomb of Dagoth Morin, in the lava tunnels deep beneath ruined Kogoruhn. Bring these things to me, and I will then tell you the secret of the third test."
I asked him for directions, and he showed me the map he had brought over from the table. Based on his map, it was in a direct line southeast of the camp, with the Dunmer stronghold of Falasmaryon directly in my path. Since I knew the way there, it would be an easy trip a little further southeast to this nasty-sounding place.
As we turned to go, he added one more statement: "You, Eldorf, must be the one go make this journey alone. Your wife may stay here as our guest, and will be well-cared for. This is a task that is for just one to complete."
I looked at Laurenna. She understood. This was a test of an individual, a rite of passage.
"I expect you back before dinner." she said.
"I'll try not to disappoint you, then." I said. "Just don't wait up - this may take a while."