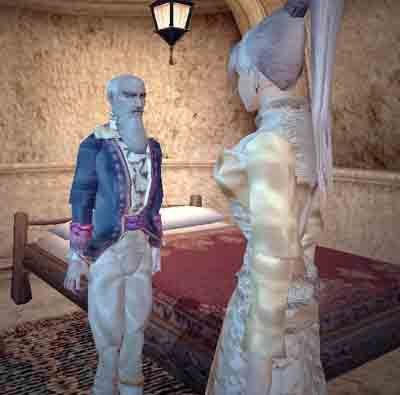 Once settled in our room, and Laurenna had stored her heavy armor, I decided to head off to the Council chambers. I was eager to get started, and there was still plenty of day left to do it in.
As I turned to leave, I heard a very angry shout. "Eldorf Dragonmeal. You are NOT going to an imporant meeting dressed in those rags." There was a very strong hand on the back of my robe that pulled me right back into the room.
"Laurenna, I feel humility...." I never finished the sentence.
"Absolutely not." she said. "They're businessmen. Where's your good suit?"
I sighed one of those sighs a child does when mom wants to dress them up.
After looking through a few things, she came up with my good suit, made sure everything was tidy, straight, and proper-looking.
"I feel like a monkey." I said.
"Nonsense, you look spiffy." she replied. "Now, get out there and get those guys to fall in line." and with that, she pushed me out the door with a smack on my rear. I was halfway down the hall when she stuck her head out of the door to add "....and bring home some ashyams for dinner, ok?"
A mage's work is never done.