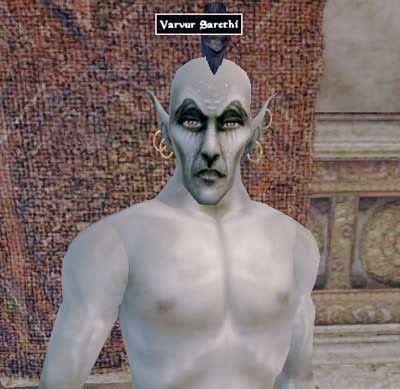 Inside the room, I found Varvur Serethi.
He was surprised to see his door open, but nothing else but a gentle breeze.
A few seconds later, the spell from the amulet of shadows wore off.
"Who are you?" he asked. "Are you here to rescue me?"
I explained to him that his father sent me here to bring him back to Sarethi Manor, and told him to follow close to me.
That was the easy part. While I had the Amulet of Shadows, he didn't. As expected, the guard in the next room attacked on sight. A spell of Medusa's Gaze stopped him dead in his tracks.
Varvur wanted to attack the guard, but I held him back and used the spell of God's Fire. That took care of one guard, but there were still two more of them out there, and Varvur was unarmed.
Once we made our way to the next room, the other two guards attacked as well. Medusa's Gaze all around, while the other members of the Manor kept their distance. Once God's Fire had done it's work, we quickly made our way out of that place and ran back to his father's home.