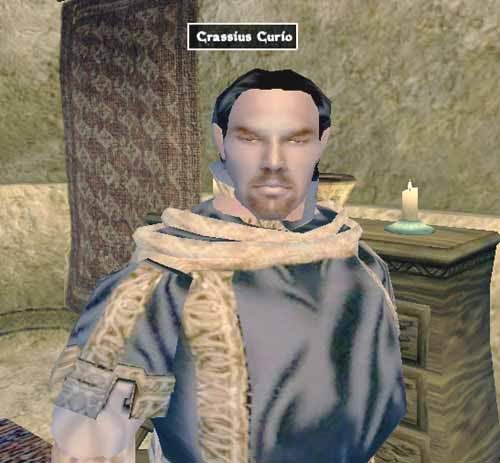 Ah, Crassius Curio. Found in the Hlaalu canton, he seemed excited by my arrival.
"You want to be Hortator?" he asked. "A pity. Orvas Dren does NOT want you to be Hortator, and very few councilors would be willing to risk Ser Dren's disapproval. But your eloquent passion, your exquisit vulnerability moves me to tisk all and defy Orvas Dren."
Ah, but I have already gotten his approval." I replied.
"Ah, excellent!" he replied. "Yes, sweetie, I will name you Hortator. But I have something to ask of you first."
'Oh, rats, another monster to kill' I was thinking. No such luck. "What favor would that be?" I asked, anticipating a long walk to some dreadful dungeon.
"Will you give me .....a kiss?"