My first stop would be in Sadrith Mora, the location of the council chambers of House Telvanni. I walked to the Mages Guild offices in Balmora and teleported to their offices in Wolverine Hall. Once there, I made the short walk towards the council chambers. However, once there, I changed my mind, and decided to head to the huge mushroom in the heart of the city, the home of Master Neloth.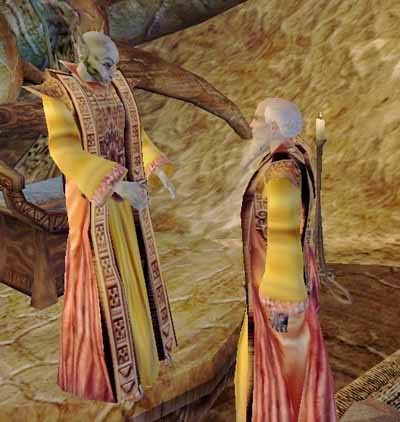 The Telvanni are known for being more involved in the research of magic and it's effects, and care little for the politics of the area. However, I figured this would be significant enough to warrant their direction attention.
I found Neloth in his upper chamber, levitating to the top of his home through a small tube in it's center.
Since I was Archmagister of House Telvanni, he was much more cordial with my arrival than he would have been with an ordinary visitor.
I explained the reason for my visit, letting him know that House Redoran and House Hlaalu had already made their decision, showed him the Moon-and-Star ring.
"Fine. Whatever." he said. "I don't mean to be rude, Archmagister, but shouldn't you be talking to young Aryon? This whole Hortator business sounds like something he'd be interested in. I want no part of it. Now, if you'll excuse me...."
Well, so much for that. However, he did tell me who I should be chatting with concerning this issue. I had to chuckle - "Young Aryon" - none of these mages were 'young' as far as I could tell.