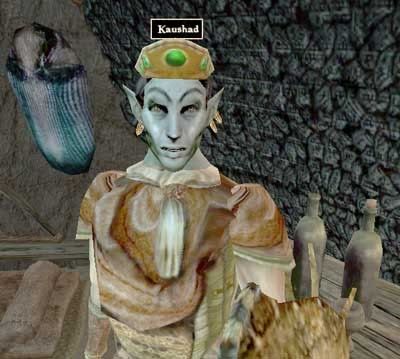 Kaushad was impressed. "Well then," he said, "Perhaps I was mistaken. Perhaps you should be Nerevarine."
But.........?
"Ahem, well, I will be happy to acknowledge you as Zainab Nerevarine," he continued, "But, it is customary for one seeking an honor from the Ashkhan to offer the Ashkhan a generous gift as a mark of respect."
Ah yes, there's always a string attached, isn't there?
"Because you are an outlander, and do not know our customs, I will do you the great favor of naming the gift I wish to receive."
"Certainly," I replied, "If it is within my power to provide it, it will certainly be done."
He smiled. "I wish to receive a high-born Telvanni bride - a pretty one, plump, with big hips to bring me many sons."
Oh, just that? Why not a piece of one of the two moons as well? "Where would I find such a bride for you?" I asked, gritting my teeth, trying not to sound bitter.
"Oh, that is simple." he replied. "You should visit high-born Telvanni lords and inform them that Ashkhan Kaushad of the Lordly Zainab would do them the honor of making their daughter his bride. Surely many Telvanni lords would be honored to receive such an offer."
Sure, many would be eager to leave their life of luxury and servants and jump at the chance to live in a tent.
"Consider carefully the many daughters offered and choose for me the finest. Take counsel with my wise woman, Sonummu Zabamat. She knows my mind well in such matters."