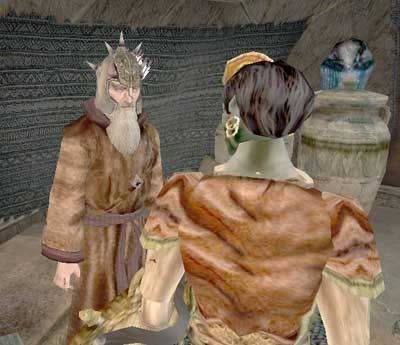 "Yes, sera, we are here safely." she said, "And this fine man, he is to be my bridegroom?"
"Lady Llervu," I said, "My I present Ashkhan Kaushad, leader of the Zainab peoples."
I was trying to lay it on as thick as I could. I was hoping they'd like each other.
"He is very distinguished-looking, isn't he?" she said, looking over her prize. "A bit severe, perhaps, but the lines on his face, there, show that he likes to smile. Oh, sera, I think I will be very happy."
I was happy with that response.
"Kaushad," I said, "I have returned with your bride-to-be."
"This is my new bride?" he asked. He looked her over, head to toe, circling her, enjoying the view. "I am very pleased with your gift, Eldorf," he said, "though she is not so generous in the hips as I would like."
Oh, for the love of.......
"However, I promise to make her a happy bride, and to do her honor as a high-born Telvanni lady."
Oh, thank goodness.
"And, as I have said," he continued, "I will now name you Zainab Nerevarine, War Leader of the Zainab, and Protector of the People. I must also give you the Zainab Thong, an enchanted heirloom of the tribe, which shall be a sign to all Dunmer that the Zainab have named you Nerevarine."
I breathed a sign of relief. 3 of the 4 tribes had given me the title of Nerevarine. I had just one more to go - the Erabenimsun tribe, and from what I had heard, they would be the hardest of all to convince.