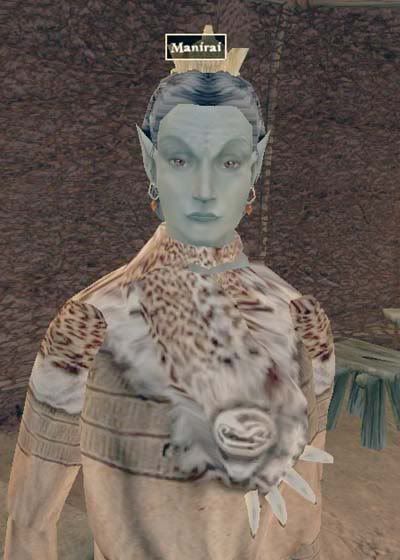 "They all hate Outlanders, and are proud and haughty, and will never suffer an Outlander to rule them." she said. "If you would be Nerevarine of this tribe, you must kill Ulath-Pal and his supporters, the gulakhans Ahaz, Ranabi, and Ashu-Ahhe."
Just that?
"Then you must help me make peace-loving gulakhan Han-Ammu our ashkhan." she continued. "He could then name you Nerevarine Erabenimsun."
"Isn't there some other way to convince them? A task of some kind, proving myself to them?" I asked.
"No." she replied. "Under the previous ashkhan, Han-Ammu's father, Airan-Ammu, the Erabenimsun grew bold and arrogant, confident in their strength of arms. Now, Ashkhan Ulath-Pal and his champions have become cruel and violent, and our people live in fear. I am of the peace-loving Erabenimsun, and I wish that Airan-Ammu's son, Han-Ammu, might become our new ashkhan. But we are weak, and Han-Ammu could never challenge Ulath-Pal, let alone all his supporters."
She turned, but before she did, I could see the sadness in her eyes. "We only wish to live and hunt as we have in the past," she said, "and do not wish to anger our neighbors by raiding and warfare. But Ashkhan Ulath-Pal and his supporters and strong and sure of themselves. They have grown rich by raiding and fighting, and will not be ruled by the counsel of their wise woman."
She gave me her counsel, suggesting that while I could defeat Ranabi, and Ashu-Ahhe, but that standing alone against Ulath-Pal and his bodyguard, Ahaz, might not be too healthy a move for me. Her suggestion that I use any hidden resources as a sorcerer or enchanter that I might have at my disposal to defeat them.
It would be good advice.