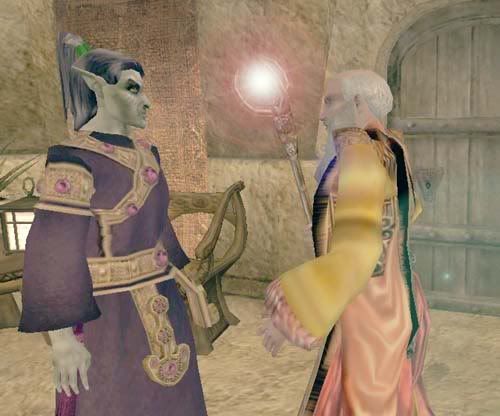 "Thank you for coming, Eldorf Dragonmeal." he said. "You know the Temple's doctrine on the Nerevarine. Perhaps it is time to change that doctrine."
He was being very cordial, and I appreciated that. "What is it you wish to discuss?" I asked.
"The temple must protect the people from false doctrines, and your association with the Imperial Intelligence, The Order of the Blades, makes your motivations and integrity suspect. But you have been chosen Hortator and Nerevarine by the Dunmer people." He paused, as if he were opening a box of trouble in his mind. "And we have reached a crises with Dagoth Ur. We can no longer defend the people against the awakened Sixth House. You and your prophecies may represent our last hope."
He walked over to his desk, and picked up two keys. "Our situation is desperate." he continued, "But I would rather have you hear the details of our situation, and the circumstances leading up to that situation, from Lord Vivec himself. He has asked to see you. Would you agree to a private meeting with him, and hear in person what he has to say?"
How can one turn down an invitation from a living god?
"Yes," I replied, "my wife and I would love to discuss this issue with him."
He glanced at my wife, gave an uncomfortable look, as if the invitation was for me only, then resigned himself to the fact that we were going there.
"Good." he said. "here are two keys; one to the private back entrance to my quarters, the other to a locked entrance to Lord Vivec's palace. I regret that, at present, the Ordinators are not completely under my control, so, for now, I'll ask you to avoid confrontations with them."
He handed me the keys. "Lord Vivec is expecting you. His Lordship is remarkably patient, but perhaps it would be better not to keep him waiting."
"Can you tell me anything about him?" I asked.
Tholer smiled. "Lord Vivec the poet is one of the three Immortal God-Kings of Morrowind, a Pillar of the Tribunal, and the patron of Artists and Rogues. Now, perhaps you'd better get moving, right?"