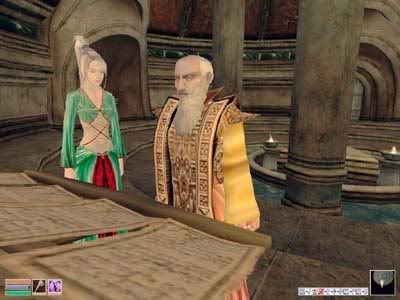 Both accounts were similar for a large number of points, but differed greatly where it came to the point about how Nerevar died, when and how the Dwemer vanished, and exactly when the Tribunal turned themselves into gods.
There was also a time line of events leading up to the current situation. Apparently, Dagoth ur and his ash vampires emerged from Red Mountain into the Heart Chamber in the 882nd year of the Second Era (2E882), and bound himself and his brethren as heartwights in a ritual of his own devising. This was when it is thought he began construction of the Second Numidium.
Around that same year, The Tribunal arrived at Red Mountain for their annual ritual of bathing in the Heart's power. Since they had been doing this yearly for so long, they had no idea that Dagoth Ur was now active. The Tribunes were driven away, and prevented from restoring themselves from Kagrenac's tools at the Heart of Lorkhan.
Between 2E882 and 3E417, the Tribunal tried several assaults on Red Mountain, but were repeatedly driven back. By now, Dagoth Ur was recruiting Sleepers and Dreamers through dream sendings. Cultists were recruited through dream compulsion. Weaker cultists became corpus beasts; stronger cultists advance to creatures such as Ascended Sleepers.
Around 3E410, Sixth House bases were founded near Gnaar Mok and near areas of Vivec. Smugglers were hired to pass around those small ash statues that I had been finding here and there. These devices (according to the Illuminated Order) were used to amplify the dream sendings from Dagoth Ur.
I noted that at 3E417, Almalexia and Sotha Sil lose the artifacts Keening and Sunder to Dagoth Odros and Venyn. Vivec managed to rescue the two other Tribunes, but failed to recover Keening and Sunder. The Tribunal retreated from Red Mountain in disorder. The Three Tribunes returned to their respective capitals and continue to perform their ritual functions.
As they no longer had access to the Heart, their powers would continue to weaken. This would prove a factor in their strengths, since it required a lot of energy to maintain the Ghostfence. Without that reconnection to the Heart, it is feared the Ghostfence would eventually fall.
Between 3E426-427, there were a number of Sixth House assassinations of prominent Imperial Citizens and Hlaalu Imperial sympathizers. There was also a sudden increase in the number and seriousness of attacks by cultists and victims deranged by soul sickness.
Also noted:
Dagoth Ur can apparently perceive and communicate directly through his cultists. Sleepers and dreamers are often reported speaking as though with Dagoth Ur's voice and intention.

Little is known about the features, scale, or state of completion of Akulakhan (Second Numidium). No one has gained entrance to the Heart Chamber since 2E282. In 3E417, Keening and Sunder were captured, and may substantially aid in Akulakhan's construction.
From interrogation of captured Sleepers and other Sixth House cultists, agents of Vivec were able to establish Dagoth Ur's plans.
Establish a theocracy in Morrowind based on the worship of the new-born god Akulakhan (Second Numidium), created by Dagoth Ur from the Heart of Lorkhan and a body constructed according to the principles and rituals pioneered by Kagrenac. He would use Akulakhan to drive the Imperial forces out of Vvardenfell.

Expose the false worship of the Tribunal and destroy the ecclesiastical authority and political power of the Temple.

Extirpate all remaining individuals or inferior and mongrel races from Morrowind.

Drive the Empire from Morrowind.

Recover ancient territories stolen by Skyrim and Argonia.

Extend the worship of Akulakhan to all nations of Tamriel through subversion and conquest.
There was more information, mostly the things Dagoth Ur would be concerned about, but one paragraph caught my eye:
"The Incarnate represents Saint Nerevar, a mythic force that has previously defeated Dagoth Ur, and Dagoth Ur is obsessed with this threat. At the same time, Dagoth Ur knew Nerevar personally, knew that he was a mortal man with faults and weaknesses. Dagoth Ur may have some hope of seducing or negotiating with Nerevar's reincarnation. Further, when Nerevar and the Tribunal defeated Dagoth Ur, they were strong and allied; now the Nerevarine and the Tribunal are weak, opposed, and divided. Therefore, though the Nerevarine and the Tribunal represent the most serious threat to Dagoth Ur's plans, he still has good reason to believe that this time he will prevail."