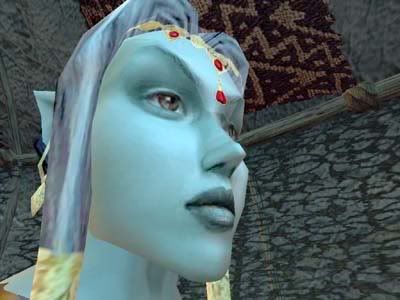 "Your course is clear." she said, in no uncertain terms. "You must go through Ghostgate, into the heart of this troubled land. You must retrieve the other two artifacts, and use them to do exactly as Vivec has perscribed - you must sever the connection to the Heart."
She looked sadly at me. "Alas," she continued, "I can guide you no further."
"Nibani," I replied, "you have done more than anyone could have asked." I gave her a hug. "I do make one promise to you." I continued. "I promise that if I am successful, I will come here and tell you and your people personally."
"When will you start your journey into Red Mountain?" she asked.
"Most likely, early tomorrow morning, from Balmora." I replied. With that, I gave her another hug, something she was not used to receiving, but appreciated anyway.