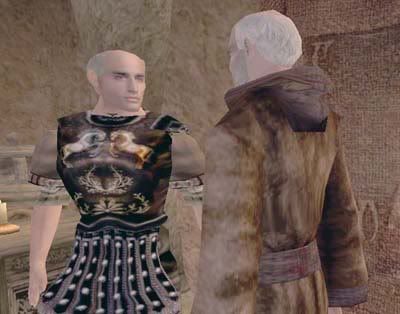 "That's very kind of you." he replied. "Here's the coin. I've had it with me for a long time, and it's always brought me luck. But I have no more use for it, and I'd like to pass it on to somebody younger. Somebody going places I can't go anymore. Your generation's shaper of history ... an engine of destiny. That coin will bring you luck on the mountain. I promise. 'For Emperor and Empire,' as we say in the legions. Go with Kynareth."
He handed me the coin. I asked him about the 'Poor old Emperor'.
"The Emperor is getting old. Don't know how much longer he'll hang on. So is the whole Empire, for that matter. Getting old, that is. The Emperor and the legions have held the Empire together for hundreds of years. It's been a good thing, by and large. But maybe it's time for a change. Time for something young and new?"
"What do you mean by something young and new?" I asked.
"Oh, no idea." he replied. "Because I'm old. Old dog doesn't get new ideas. But maybe young folks like you should try some new ideas. I don't know. Could be messy. But change is never pretty."
I thanked him for his information, and we carried in, checking the tower for someone that could give us some pointers on what to expect once inside the Ghostfence.