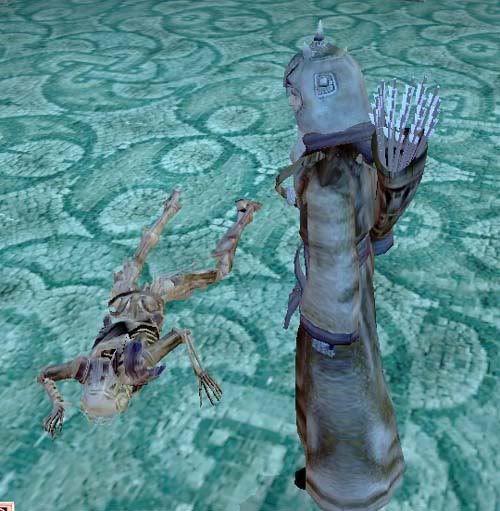 The other two liches had ordinary weapons, so they had nothing I really needed, but in checking the corpse of Semuta, I found something most interesting. Along with an enchanted sword and shield, there was a note, address, strangely enough, to myself.
Have no fear, Eldorf Dragonmeal. Unlike Drynne, I uphold the traditions.
I have arrayed my forces against you, marshaled my powers to defeat you. Shold you, instead, defeat me, you will have more than proven your right to the knowledge you seek. We are a pragmatic sort, most of my brethren and I. We respect power; those who wield it well are deserving of the claims they make on that which they've taken. Understand this about us, if you would understand us at all.
What you seek is obtainable, but only with the assistance of another of my kind. The Ritual of Becoming may only be performed by another lich. My old associate, Elijah, will stand in that role for the ritual for you.
Though many of us have heard tell of other methods of such transfiguration, on Vvardenfell, the Ritual of Becoming can only be performed in one place - a chamber known as the Hall of the Daedra. Seek it in the depths of the Massama glass mine, located just southwest of the stronghold Falensarano. The mine was abandoned by it's workers long ago. They feared - and rightly so - the deep darks of that place.
For the ritual to be successful, the supplicant must have the favor of seven Daedric Lords. To garner their favor, you must perform a task for each of them; I leave it to you to discover what those tasks are and, indeed, from whence they may be undertaken. At the end of each task, the Daedric Lord who gave it shall reward you with an item as a sign of their favor.
Those rewards, those tokens of favor, will most likely take the form of powerful artifacts. You will be pleased to have them. You will not wish to relinquish them. Yet, the Ritual of Becoming requires that you do exactly that.
The rewards granted you by the seven Daedric Lords must be sacrificed during the ritual. They will be consumed in an unearthly fire, forever gone to you.
And that is all. Gather the favor of the Daedric Lords, take their rewards to the Hall of the Daedra, complete your Trial, and speak to Elijah to begin the Ritual of Becoming. Nothing further is required, nothing else is asked of you - though you would do well to remember that a simple deed is not always so simply done.
I do not wish you well, for if you have reached this point, it is only over my own carcass. However, in the very point of having come this far, it is unlikely you need anyone's well-wishes to achieve success in your goal. You have, so far as our traditions are concerned, made of yourself my 'heir'. So know now and henceforth that if you fail to live up to the standards I set as your predecessor, I shall curse your existence from beyond death's shadowy doorstep from now until the end of time itself.
Semuta, lich of the 3rd Circle,
In her tower at Inverness.