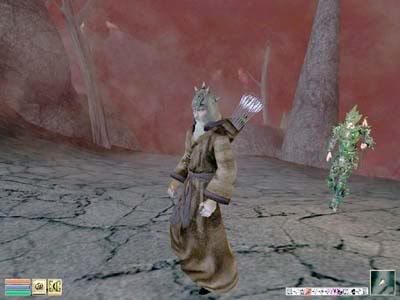 We had found both Keening and Sunder, the tools needed to destroy the Heart of Lorkhan. Laurenna was exhausted from this 2-day adventure. "Should we head to Dagoth Ur's stronghold now?" she asked.
"No." I replied, "We need to head back to Ghostgate. You and I both need rest, and I need to fix a few things."
"What things?" she asked.
"Well, we're both running out of arrows." I said. "Your armor and weapons need to be repaired, and what needs to be 'fixed' is the fact that several of these creatures seem to be able to paralyze me. How many 'cure paralyze' potions do we have left."
We checked - only 2 left. Definately not enough to make this journey again. Just the journey to the first Dwemer stronghold here to find Sunder had used most of them.