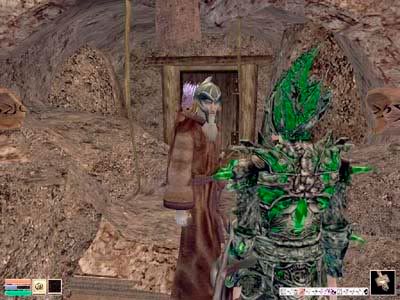 The door ahead......I could feel evil coming from it.
Dagoth Ur was in the next room.
"Laurenna, wait here for me."
"But, what about...."
I stopped her. "This is a living god," I told her, "and he managed to kick the Tribunal, three living gods themselves, OUT of this facility."
She looked at me as if this was the last time she would ever see me alive. The thought had also crossed my mind, too, sadly.
"One of us must get out of here with word of how far I got." I continued. "I don't know what will happen in there, but if I do not make it out of here in 30 minutes, you'll need to make it to Ghostgate and report what has happened. They'll need to know that Wraithguard, Keening, and Sunder may have fallen into Dagoth Ur's hands."
"But what about you?" she asked.
"I'll do what I can." I replied, "But I can only hope that I have enough enchanted items, rings, potions, and spells to give me the opportunity to destroy the Heart."