"It began here. It will end here. Have you any parting words? Or would you prefer to skip the speeches, and get to our business? You are the challenger here, after all. So to you goes the courtesy of the first blow."
"Now that you have come to me here, there can be but one result. Many times I have considered offering to share this place with you. I considered offering to accept your oath of service. You might try to buy my trust by giving me Wraithguard, Keening, and Sunder. I thought we might once again be friends... comrades... brothers in arms."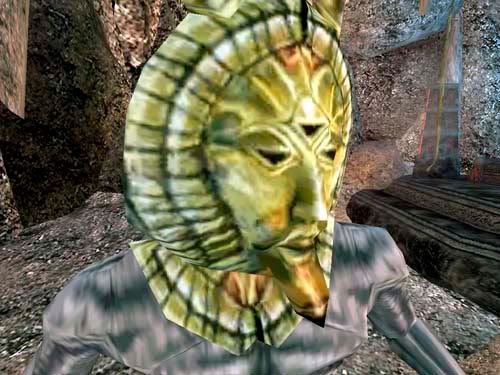 "But I have won this place and power by right of conquest. By right of daring and enterprise. I will not risk it to cunning and deceit. I offer you no deals. If you are my enemy, I cannot trust you. And even if you are not my enemy, I cannot let you live. It will all be decided here. I believe I will prevail. But I cannot be sure, and I am vain enough that, should I fall, I would wish to be remembered in my own words. So, if you have final questions you would ask, ask them now. I have final questions I would ask you, if you would answer."
"Very well," I replied, deciding to probe for some answers, if possible, "ask your questions of me." The least he could have done was offer me a cup of tea, not that I would have accepted, suspecting he'd poison it, but it would have been a much more friendly gesture.
"My first question is: Are you really Nerevar reborn?"
Well, that was unusual, but I had an answer for him. "By the grace of gods and fate, I am Nerevar reborn." I showed him the ring, Moon-and-Star, that only Nerevar could wear. Though I could not see his face through the mask, I could hear a sort of sadness in his response.
"That is bitter." he replied. "The gods and fates are cruel. I served you faithfully once, Lord Nerevar, and you repaid me with death. I hope this time it will be you who pays for your faithlessness."
Ok, so, not the response I expected, but no matter.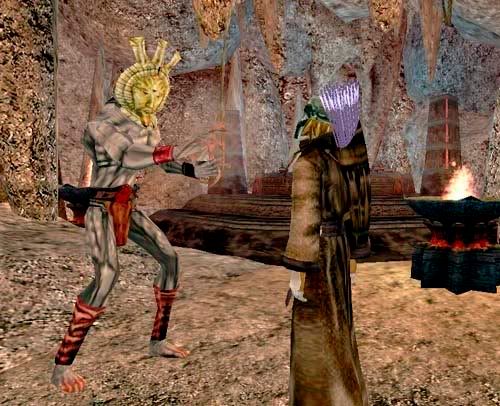 "My second question is: if you win, what do you plan to do with the power from the Heart? Will you make yourself a god, and establish a thearchy? Or will you complete Akulakhan, and dispute control of Tamriel with the Septims? Or will you share the Heart with your followers, as I have, and breed a new race of divine immortals?"
I guess he wanted to know if I was as power-hungry has he was, and perhaps, as power-hungry as the Tribunal had become. "I have my own, secret plans for the heart." I replied. Those plans involved a lot of damage to the heart, but then, I think he knew that's what I had in mind.
"Well. Perhaps there may be surprises in store for me yet." he replied, "Or perhaps you obscure your plans on principle. Or perhaps you are an instinctive bluffer. No matter. My final question is: if I had offered to let you join me, would you have surrendered Wraithguard, Sunder, and Keening to me to seal your oath?"
I glared a very angry stare at him. "No." I replied, without hesitation, "I would never join you."
He surprised me with a slight bow. "Thank you for your forthright response. And now, if you have any questions, ask them. Otherwise, you are the challenger. I await your first blow."