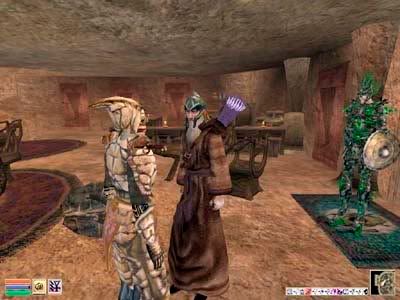 We headed to the Tower of Dusk to stay the night. It had been an exhausting day for both of us, and I figured we should sleep here for the night and go home in the morning.
After purchasing a room for the night, I saw a Buoyant Armiger standing guard.
"Er, excuse me, sera. But... well... you're the Nerevarine, and a big hero, and I don't really know how to talk to important folk like you. Except to say... thank you, sera. For everything."
"What about the Ghostfence?" I asked.
"Dagoth Ur is dead, Nerevarine. We don't need the Ghostfence. But its bare pylons will remain as a tribute to Almsivi, to all the Ordinators and Buoyant Armigers who died, to the victims of the Sixth House, and to you, Nerevar-Born-Again."
"Do you think they'll tear down Ghostgate?" I asked.
"I hope they maintain it has a stronghold for the Ordinators and Buoyant Armigers," he replied, "and as a hostel for pilgrims. You know, Nerevarine, in years to come, they will make pilgrimages to Ghostgate and Red Mountain. We won't forget what you've done."
I smiled, gave him a pat on the shoulder, then Laurenna and I headed to our room.