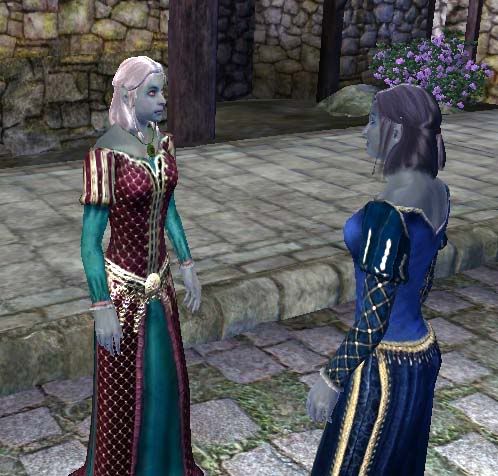 I spent the night in a comfortable bed, sleep taking me away for a few hours. When I awoke the next morning, the sun was shining, the birds were singing, and all was right with the world. The owner of the Inn was a Dunmer, like myself. She told me that many Dunmer from Morrowing were living here in Cheydinhal. In the two years that I had been in prison, things had changed in my home. Not for the better, it seems, either. Another one of my people told me that at least one of the Great Houses of Morrowind was in total disarray.
The Nerevarine had killed one of the Tribunal (Almalexia), another of the Tribunal was dead already (Sotha Sil), and the one Living God (Vivic) had been reportedly killed by some young buck who thought he could soul-trip him into a grand soul gem. Vivic died through a trick of magick from this young warrior, and the young fool died from his own wounds as he had run out of healing potients during the battle with the living god. Vivic's soul was too powerful for the grand soul gem, and it exploded in his face.
Such a waste.
Now, the land of the dark elves was without direction. Crazy people were wandering about crying about the 'end of all things' and such.
Well, Morrowind had survived many trials in the past. The Nerevarine would protect them.
"Oh, the Nerevarine?" she asked. "Apparently you haven't heard the news. The Nerevarine has left to explore the strange land of Akavir two years ago, and has not been heard from since."
Well, this was not good. Who would protect the people now?