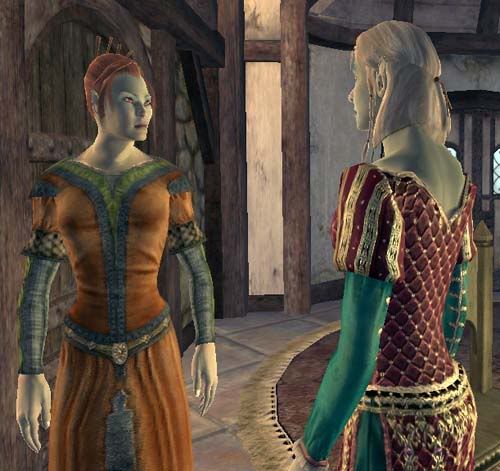 While chatting with people in Cheydinhal about rumors of what's going on here, one of the things other people always mentioned was that Rythe Lythandas, a famous painter in the city, is missing, and no one, including his wife, Tivela, knows where he is.
I had sold off all of my extra items, deciding not to bring any weapons or armor with me, as this city was pretty safe. I was curious as to how someone could just vanish like that, so I decided to pay Tivela a visit and see if I could find out what was wrong. I had solved a few other mysteries earlier, so I figured this would not be too difficult. If it involved going into a sewer or out into the forest, I figured I could always go back to the Inn and get my weapons and armor first.
Tivela told me that Rythe had gone into his studio to do some painting, but after a day or two, he never came out for food. Upon checking his studio, she found he was not there at all. Odd that his studio had been locked from the inside. She gave me the key to his studio, so I figured this would be a good place to start looking for a clue.
His studio was filled with a number of brushes, paints, oils, and a number of paintings, some finished, and some only partially completed. One painting was odd enough to attract my eye. What was odd is how real the images were. You could almost see the trees swaying in the breeze.
I looked closer, and much to my amazement, the trees were actually moving! Not by much, mind you, but they were actually moving. In disbelief, I reaching out to touch it.
That was a big mistake!
Around me, everything went dark, colors swirled around me, and then, suddenly, I found myself...somewhere else.