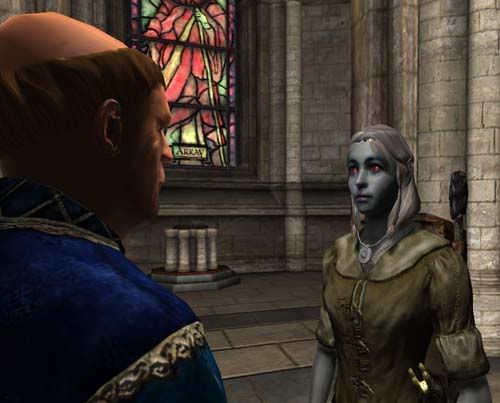 "I had heard of several strange rumors." he said. "Something about huge portals opening up in several areas of the Empire."
"Portals?" I asked. "What do you mean?"
"Well, I'm not sure how you would describe them." he replied. "I had heard this from a Dunmer like yourself coming from Morrowind."
"Morrowind?" I said.
"Yes." he replied. "Apparently, some sort of portal opened up in at least two areas of Morrowind, one on the mainland, and according to this Dunmer I spoke to, one in the middle of the settlement of a place called Ald'Runh."
I didn't know what to say. My home. My father and brother. In danger.
"Tell me what you were told." I said. "I am from Ald'Runh. I have family there."
He gave me a very sad look. "According to this rumer, something called an Oblivion Gate opened up right in the middle of the city. Daedra came through the gate. The only reported survivor was an Imperial soldier, buried under the rubble until reinforcements came to investigate the fire and smoke they saw from a nearby fort."
"Only reported survior?" I asked. "You mean..."
"Yes." he replied. "According to the reports, Ald'Runh was totally destroyed, no survivors except for the soldier they had apparently missed. The monsters killed men, women, and children alike."