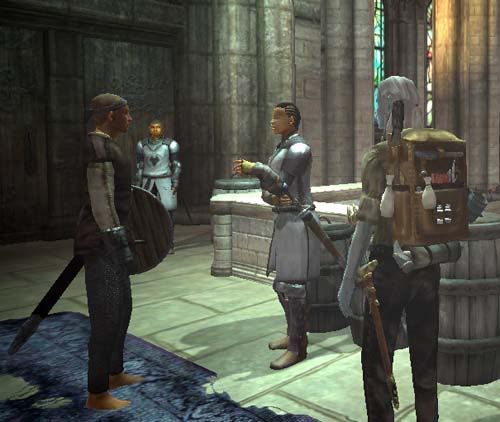 We ran into the chapel, greeted by cheers from the refugees that had been hiding inside.
Once inside, one of his soldiers, Tierra, reported on conditions. "Sir, we're all that's left. Berich Inian, myself, and these civilians."
Savlian Matius was not happy. Just himself, two soldiers, and a bunch of non-warriers, not including myself were all that was left. It seemed that no one else had survived. Except possibly for the Count.
"Tierra," he said, "get these people out of here. The way to the gate is clear and the Oblivion Gate has been closed."
"But sir!," she protested, "I want to fight!"
"You will." he replied, "Once they're secure, get back here immediately. We'll need every available blade, and there'll be plenty of fighting to go around."
Tierra was ready and willing to fight, but realized that the refugees were why they had been trying to get in here in the first place. "Civilians, it's time to move out! Let's go!" she shouted.
The group of refugees hurried out the door, among them, one that looked as if he were dressed as a priest. Could it have been Martin? I wasn't sure. I was about to ask, but the entire group walked out the door before I had a chance to ask.
Savlian, after watching the last of the civilians leave the chapel, came over and addressed me directly. "We've done it!" he said, almost in disbelief. "I didn't really think this would work."
"We got this far." I said, trying to be encouraging.
"Well, maybe we do have a fighting chance." he replied. "This was only the first step. If this town is to be ours again, we'll need to get inside the castle. The Count may still be alive, if he's barricaded himself properly. If we're truly going to succeed, I'll need your help with those summoning spells of yours."
I thought about it for a moment. I had several potions left, some of which would fortify magika and strength, healing, and so on. "Let's do this." I replied, with a determined stare.