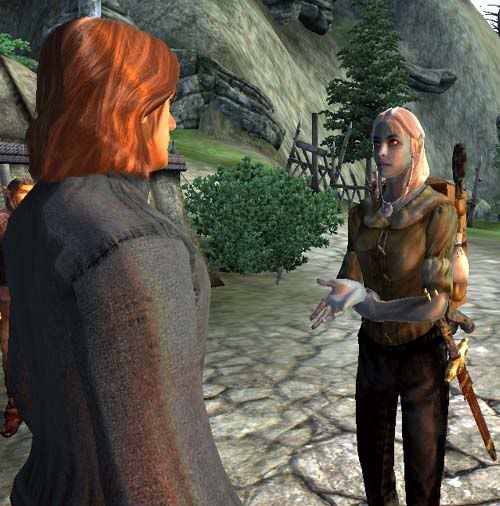 "You're Martin, right? The priest?" I asked.
"Yes, I'm a priest." he scoffed. "Why? Do you need a priest? I don't think I'll be much help to you. I'm having trouble understanding the gods right now." He cast his eyes to the ground, as if he were ashamed of what he just said. "If all this is part of a divine plan, I'm not sure I want to have anything to do with it."
I didn't come all this way, going through the land of Oblivion just to hear this.
"There is a plan." I replied. "We're part of it. You and I."
"Plan?" he said, half laughing. "What plan? What are you talking about?" He pointed back to the top of the hill, towards the now destroyed Chapel of Akatosh. "I prayed to Akatosh all through that terrible night, but no help came. Only more daedra. What can you possibly know that would help me to make sense of this death and distruction?"
I could have danced around the issue, trying to be descrete about it until we were out of the camp, but I had to get him to want to come with me, so I gave him the strangest news he'd probably hear for the rest of his life. "You are Uriel Septim's son." I said, in the most matter-of-fact voice I had.
Martin just looked at me for a moment, not quite sure what to say. "Emperor Uriel Septim? You think the emperor is my father?" he asked.
"Exactly." I said, sounding as hard and determined as I could.
Martin shook his head, unable to take it all in. "No," he replied, "you must have the wrong man. I'm a priest of Akatosh. My father was a farmer."
"Listen carefully, priest of Akatosh." I instructed, getting tired of this, "The daedra came here for you. The Emperor knew you were in danger."
"You...you spoke to the Emperor before he died?" he asked. "And he told you to find me?" He thought about it for a moment. "An entire city destroyed to get at me? Why? Because I'm the emperor's son?"
"Believe me," I replied, "I find this as strange as you do. But I'll tell you this: I have no reason to lie to you. I could have gone home to Morrowind, but instead I'm here."