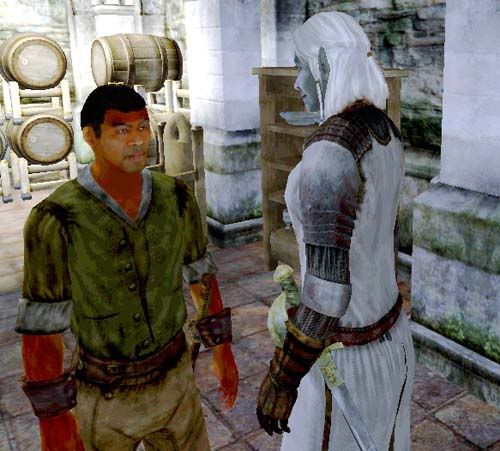 "Baurus, I found this book on him." I said, showing it to him. "Good work." he replied. "Sorry about the cloak and dagger part earlier." he said, smiling. "I'm glad to see you, by the way. You just caught me at a bad time."
"Well, maybe just the right time." I replied. "What have you learned?"
"Not good news." he said, looking a little worried. "Those assassins who killed the Emperor were part of a daedric cult known as the Mythic Dawn."
"Mythic Dawn?" I replied. Same as the title of the book I had found.
"Yes." he said. "Apparently they worship the Daedra Lord Mehrunes Dagon. I've been tracking their agents in the Imperial City. I guess they noticed."
"More than noticed." I said. "They have the Amulet."
Baurus' look changed from worry to concern. "What?" he exclaimed. "They took it from Jauffre? Things are worse than I had thought."
"You may be right." I explained. "They attacked Weynon Priory. Several of the brothers were slaughtered. Jauffre survived."
"Well, I'm glad he survived." he replied. "Is there any good news?"
"I believe so." I said. "I found Uriel's heir. His name is Martin."
"Oh, thank Talos he lives. Martin Septim, you say. Well, we will restore him to the throne! It is the sworn duty of all Blades."
"Well, I am glad I was able to give you some good news, at least." I said. "What should our next move be?"
Baurus thought for a moment, paging through the book we had found. "You're in the Mages Guild, right?" he asked.
"Yes, I've been practicing and getting recommendations to enter the University here in the city." I replied.
"Perfect opportunity for you." he said with a wink. "You know, there's a scholar at the Arcane University." he said. "I believe "Tar-Meena's her name. She's supposed to be an expert on daedric cults." He handed the book back to me. "Why don't you take that book to her and see what she makes of it?"
"Certainly." I replied. "I have business there anyway, having received all the necessary recommendations needed to enter the university."
"Perfect." he replied. "You head on over there. I'll keep running down leads on the Mythic Dawn network. If you learn anything, you can find me at Luthor Broad's. May Talos guide you."