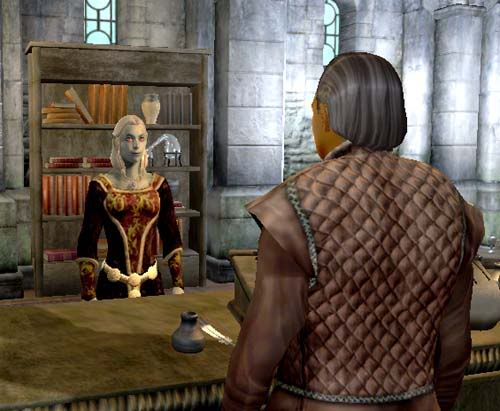 I headed over to the First Edition as instructed. I had done business with Phintias earlier, selling some books I had found in some of my earlier adventures.
"Ah, Shakula, always a pleasure to see you in my shop. How may I assist you today?" he said, greeting me with a hearty smile.
"Phintias," I started, "I have a most unusual request. Do you have any copies of something called the 'Mysterium Xarxes'?"
Trying to be helpful, he corrected me. "Oh, you must be referring to Mankar Camoran's 'Commentaries on the Mysterium Xarxes,' a common mistake. It comes in four volumes. The first two volumes are rare, but you may bump into them in some shop that has rare books. The third and fourth volumes, oh, those can be impossible to find."
"Well, there is the challange." I replied. "I need volumes three and four. Can you help me find them, or get them for me?"
Phintias looked apologetic. "Well, I happen to have a copy of the third volume on hand, but I'm afraid, well, um, it's a special order, and already paid for by another customer."
"If you don't mind," I asked, "may I know who purchased it? It's important."
"Well, the customer's name is Gwinas." he replied. "He'd be terribly disappointed if it was gone when he came to pick it up. I am so sorry I can't help you."
"What about Volume Four?" I asked. "Can you obtain that one?"
Again, Phintias looked apologetic "I wish I had one," he replied, "but I've never even seen a copy."
Phintias went on to say that his word was his bond, and I understood that. Phintias was being honest with me, as he would be if I had paid for it in advance, so I couldn't fault him for his integrity.
"What about Gwinas?" I asked. "Can you tell me anything about him?"
Phintias seemed a bit uneasy, but our friendly working relationship over the past two months gave him reason to open up to me. "I don't know him personally," he replied, "but he was very eager to get his hands on Volume Three of this set of books. He came all the way from Valenwood to get it. He should be coming in today to pick it up. If you wish, please feel free to sit over there and wait for him if you wish to speak directly with him about the book."