"Ah, you're back." he said. "I told Jauffre not to work."
I started to speak. "Martin, I...."
He studied the worried look on my face. "I can see you have bad news." he said. "You didn't recover the Amulet, did you?"
"No." I replied, "Mankar Camoran was wearing it." I explained. "Just before I could get close to him, he opened up some sort of portal."
Martin looked sad. "I see." he replied.
"I did manage to recover the Mysterium Xarxes from their shrine." I said, producing the book.
Martin's face went white. "By the nine!" he exclaimed out loud, "Such a thing is dangerous even to handle!" Suddenly, Martin caught himself, realizing that I had done the only other thing possible to try retrieving the Amulet. He saw my shocked looking, as if I had done something dreadfully wrong. "Forgive me." he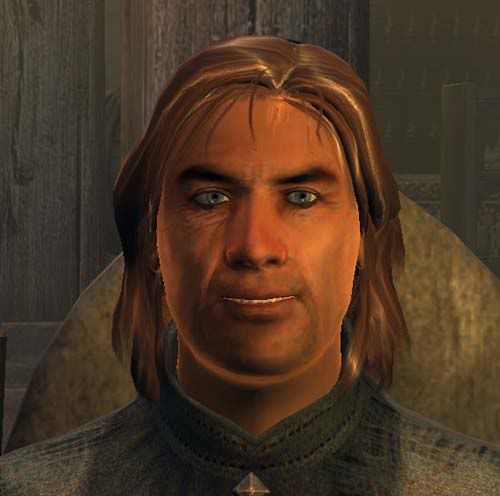 said, in a much softer tone. "You were right to bring it here. But you'd better give it to me. I know some ways to protect myself from its evil power."
"I'm sorry." I said. "I didn't know I should handle it." I handed the book to Martin, who quickly dropped it on the table in front of him.
"No, no." he said, "I'm sorry for my earlier outburst. The book is just...evil. It might have corrupted you, if you remained in possession of it for too long."
"Can this book lead us to Camoran?" I asked.
"I'm not exactly sure." he replied. "Perhaps." he glanced at the book, studing the cover. "I suspect that the secret of how to open a portal to Camoran's Paradise, such as the way you described it, lies within these pages. But I will need time to study this." He paused for a moment, measuring what he should do, what he should tell me. "Tampering with dark secrets, even just reading them, can be very dangerous." Martin put his hand near the cover of the book, as if to feel for some kind of magical aura from it. "I'll have to proceed carefully." he finished.
"Where did this book come from?" I asked.
"As I understand it," he replied, "this evil book was written by Mehrunes Dagon himself, and given by him to Mankar Camoran. I suspect that Mankar Camoran used it to create his Paradise. Studying it should give us the means to open a gate there ourselves."
"You should be able to understand and work this, right?" I asked.
Martin smiled. "I put aside the dark arts when I became a priest." he replied. "But the workings of fate may be seen in this, too. They say 'The gods can turn anything to good', or so I piously told those who came to see me for advice." He turned back to the book, pondering it, adding "Perhaps I may yet come to believe it myself."
"And the Oblivion Gates?" I asked.
Martin sighed. "It is now clear to me that the only way to stop the Oblivion invasion is to relight the Dragonfires. Emperor, Amulet, and Dragonfire - with these divine gifts, the daedra of Oblivion have been kept at bay for thousands of years."
"But how did it work?" I asked.
"While the Dragonfires burned, the divine barriers kept the daedra from making more than fleeting visits to our world."
"You mean like when I summon a creature?" I asked.
"Exactly." he replied. "But the Dragonfires can only be relit by an heir of the Septim blood wielding the Amulet of Kings. This is the essence of Mankar Camoran's plot. He was undone only by the merest...chance."
"You?" I asked.
Martin nodded in agreement. "But his complete victory remains perilously close. We must recover the Amulet of Kings and use it to relight the Dragonfires, before it is too late to stem Dagon's invasion.
I smiled at Martin, and he smiled back. "I hope the book can be used to help us, then." I said, not having that much more to add.
"You have been more than helpful." he replied. "In the mean time, you should speak with Jauffre. He was concerned about reports of spies in Bruma."