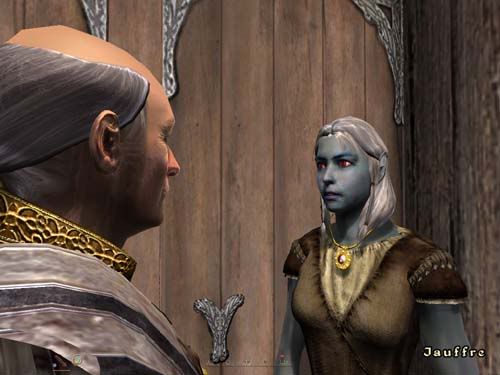 I found Jauffre in the next room, giving orders to make things secure to several of the sentries. They bowed quickly and ran to carry out his instructions. As soon as he saw me, he called me over.
"Shakula, I'm glad you're here." he said, in a very worried tone. "You remember the note you brought back from the spy hideout?"
"Yes." I replied. "The one about opening Oblivion Gates nearby, right?"
"The very same." he said. "I've just received word from the Countess of Bruma that an Oblivion Gate has opened outside the city. It seems that the Mythic Dawn are wasting no time in putting their plans to attack Bruma in motion."
"What are we planning to do?" I asked.
"I don't want our forces diluted trying to deal with each of these gates." he said. "Since you've dealt with these gates before, I'd like you to help show the Countess' guards how to close this gate. Once they've seen how it's done, they should be able to handle any new gates on their own."
"Yes." I replied. "I know the technique. It's just a matter of getting to the right tower and grabbing the Sigil stone from the flow of power it resides in. The Gate collapses immediately once its taken. Where is the Gate located now?"
"Captain Burd is waiting for you outside the Bruma city gate." Jauffre replied. "He'll show you where it is. Well, actually, you'll probably see it before he shows you."
"Yes." I replied. "It has a most determined effect on the sky. Thunder, red clouds, and so on. I never seem to miss it."