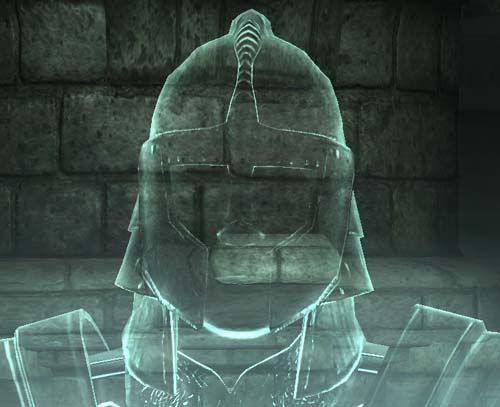 Again, in a sad voice, as if this spirit hated himself for his failure, he responded. "My three companions and I were sent here by the Emperor Tiber Septim to discover what evil had defiled the holy catacombs of Sancre Tor. We did not know that the Underking, who was Zurin Arctus, had arisen to take his first revenge upon his former lord."
I had heard of this person from history class when I was a child. As I recalled, Zurin Arctus was once a battlemage of Tiber Septim. Apparenly, they had a falling out, resulting in Zurin, who (depending on who's story you hear) either died or became the Underking. Apparently, these Blades were being used as pawns in the Underking's revenge. (Note 1) (Note 2)
"What happened then?" I asked.
"The Underking defeated and ensnared us in his evil enchantment," replied Rielus, "and bound us here to guard forever the defiled Shrine of Tiber Septim."
"Is the Underking still here?" I asked, worried that if he could do such a thing to four Blades, what would happen to me?
"No." came the reply. "He departed long ago. But his evil will remains, preventing any from paying homage at the Shrine of Tiber Septim. Over the uncounted years of our slavery here, we have brooded over our defeat. I believe that we can undo the Underking's evil magic."
That sounded helpful. I shouldn't dare try to retrieve the armor if there was going to be some type of spell that would trap me here forever.
"I go now to complete my duty to my lord Tiber Septim." he said, now in a much more hopeful voice. "Free my brothers, and together we may be able to lift the Underking's curse. Farewell!"