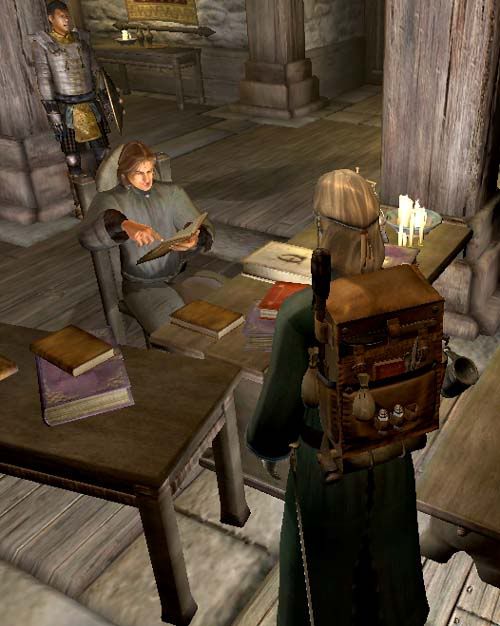 Martin was buried in a mound of books around two tables. There were notes and scratchings everywhere, crumpled paper on the floor. Martin noticed me as soon as I approached.
"Ah, Shakula!" he said. "I hope you have good news for me."
"I do." I replied, taking out the Armor of Tiber Septim and placing it on the table before him. He just stared at it for a moment, realizing that a piece of history was no more than an arm's reach from him.
"The Septim blood may flow through my veins," he said "but you have the soul of a hero."
Martin picked up the armor gazing at it. "Oh, you can reassure Jauffre that I will not destroy the armor. All I need is a scraping of Talos' divine blood. The Blades are as touchy as priests about relics of Tiber Septim, it seems!"
"What else is needed?" I asked. "I must go and seek aid for Bruma, so I cannot stay too long."
Martin quickly turned back to some of his notes. "Ah, glad you asked." he replied. "While you were gone, I had made some progress in deciphering the Mysterium Xarxes ritual." He shuffled through several of his notes until he found the one he was looking for. "The third item we need a a Great Welkynd Stone." he said. "You probably know of these Ayleid ruins all around Cyrodiil, correct?"
"Yes." I replied. "I have been in several of them, and nearly killed in at least two of them."
"And the lesser Welkynd stones found within them, no doubt." he continued.
"Yes, they can be used to re-charge magika." I replied.
"Well, those stones are fairly common in Ayleid ruins." he said. "But a Great Welkynd Stone will not be easy to come by. They have been plundered one by one over the years, due to their great value to mages and occultists."
"So they're pretty rare, I take it." I said.
"Exactly." he replied. "But there is only one place that is rumored to still contain one: The ruins of the Ayleid city of Miscarcand. They say that it's still there only because anyone that ever tried to retrieve it has perished. But nothing else will do, so you must succeed where all others have failed."
"It sounds pretty serious." I said. "Are you sure there is a stone actually in there?"
Martin thought for a moment. "Miscarcand is one of the most extensive Ayleid ruins in Cyrodiil." he said. "If any place had one Great Stone left, this would be it. It was the capital of one of the ancient Ayleid kingdoms which flourished in Cyrodiil before the rise of Men. It is said that the ruins are still haunted by the vengeful spirit of its last king."