I left Cheydinhal in a cloud of dust, traveling west along the Blue road, then the Red Ring road, stopping at the Imperial City's Arcane University. I decided to enchant one of my new weapons to put a soul trap spell on anything non-human that it was used against. Soul-trapping is extremely useful for filling soul-gems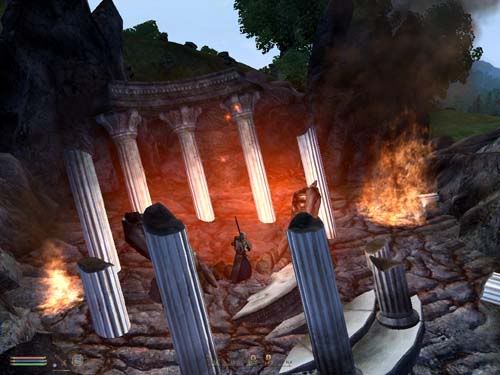 that can be used to re-charge enchanted weapons. This would come in very handy for me, since some of the weapons I used needed to be re-charged often.
From there, we headed south, picking up the Gold Road, heading first for Skingrad, and eventually, further southwest to the coastal city of Anvil. I figured once I was done with my mission in Anvil, I could stop by the ancient city of Miscarcand and find the Great Welkynd Stone that Martin needed.
I considered myself lucky that I had a fast horse. We blew right past bandits and trolls, and I didn't notice a single new Oblivion Gate on the way. That was, until I could see the spires of Skingrad up ahead. Just then, I could hear the familiar high-pitched whine that was all-too familiar to me. It was yet another Oblivion Gate, and it had opened up right on an ancent altar of one of the gods. I jumped in and gave Soul Drinker (the name I had given my new sword) a number of practice swings. It worked very well. So well, in fact, that I ran out of soul gems to put creature souls into.
I managed to close the gate and ended up, as usual, right where I had started.