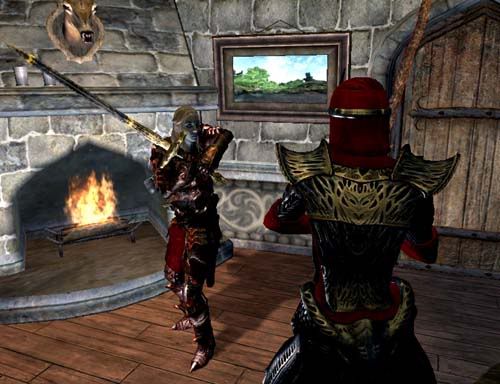 The orc in the room managed to defeat her scamp, but his dagger would be no match for a broadsword and armor in close quarters. My own summoned armor would only last for 60 seconds, so I had to work fast!
I blocked her first blow, spun around and took a shot at her. She blocked it, but bounced back into the room. I had received enough practice with some of the monsters from Oblivion, and I treated her no differently.
"Give up and die!" she shouted.
"You first, sweetie." I responded.
She let loose a full downward thrust at me. I blocked it, then hit her several times with my own sword, finally striking a blow that she missed. Stunned by the hit, I repeated the strike, this time knocking her back against a table. Now, out of range of the other people in the room, I hit her with a spell of God's Fire.