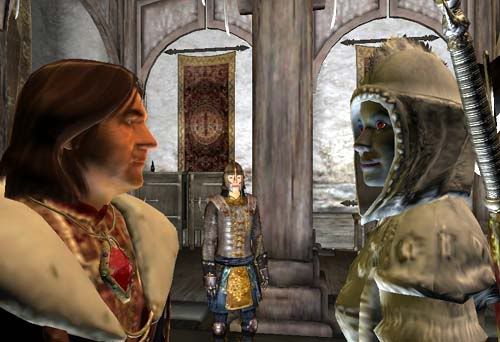 "Yes, of course. What am I waiting for?" he replied, "After all, this is my destiny. No man can deny his destiny."
With that, he put the Amulet of Kings around his neck. It remained.
"Now you look like an Emperor." I said in approval. "You see? You are Uriel's son."
"I didn't really need the Amulet to tell me that." he said in appreciation. "I've known it was true since you first told me in Kvatch. But it is one thing to talk about becoming Emperor, and quite another to actually be the Emperor."
"Well, to me, and all of the Blades here, you are the Emperor." I said, trying to be encouraging.
"Not yet." he replied. "Until we light the Dragonfires, the Gates are open, and Mehrunes Dagon's invasion continues. While you were gone, I sent a messenger to Chancellor Ocato. He waits for us in the Imperial City."
"Ocato?" I asked. "Why meet with him?"
"Well, Chancellor Ocato is the head of the Elder Council." he replied. "The Council rules in the Emperor's absence. I don't expect any objections from the Elder Council, but we should defer to their authority. I think we should go to the Imperial City at once, before the enemy can recover from Mankar Camoran's death."
"He's right." interjected Jauffre. "Declaring oneself Emperor is a delicate matter. In this case, however, I do not think there should be any dispute. The Elder Council has been governing the Empire since the Emperor's murder. They will be overjoyed to have an heir to the crown. They've been unable to solve the Oblivion Crisis. The Empire is falling apart. Only a legitimate Emperor offers any hope."
"Then if you'll excuse me for a short while, I must return to Bruma and change." I said. "I should be back in within the hour."
"Very well." said Jauffre. "We'll make preparations here, and will be ready for our departure by the time you return.
I cast the spell of Recall and ended up in the basement of my new home in Bruma. I decided that if someone was going to be crowned Emperor, I should be in my best outfit. It would be a quick run from Bruma back to Cloud Ruler Temple once I was ready.