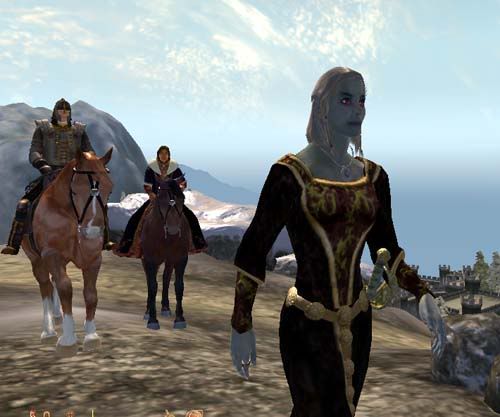 We headed towards the main gate, Jauffre and Martin collected their horses. "Where is your horse, Shakula?" asked Martin.
"I had to ride it to Chorrol just before the Battle of Bruma." I replied. "I used a spell to return me here as quickly as possible, meaning my horse is still there. I hadn't had time to go back there and retrieve it."
"You may have mine for this trip." offered Jauffre.
"Thank you for your kindness." I replied. "I can run, and the exercise will do me good." I said with a grin.
"As you wish." he replied.
With that, we set out towards the Imperial City, its tall tower visible in the distance. We took the Silver Road straight south, encountering two trolls and a bear along with way. My spell of God's Fire took care of each of these obsticles in short order, ensureing that neither of my two charges were ever in danger. Once we were far enough, we connected with the Red Ring Road, heading west towards the main entrance to the Imperial city. Another bear along the way, and another spell of God's Fire took care of the danger it posed.