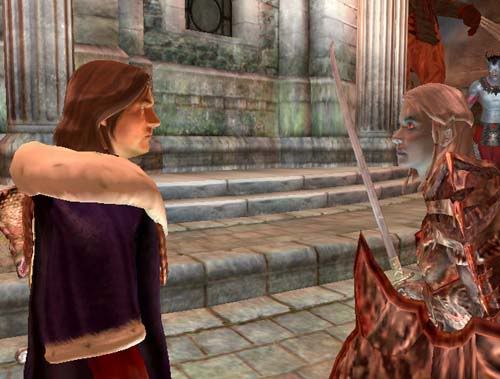 I turned to Martin. "We're too late!" I said. He is here.
Martin looked at the huge monster in dispair. "The Dragon Fires will no longer help us. The barriers that protected us from Oblivion are gone."
"Is there a way we can cast him back into Oblivion?" I asked.
"I don't see how." he replied. "Mortal weapons may hurt him, but now that he is physically here in Tamriel, they have no power to actually destroy him."
"Well, that rules out any weapon you or I have." I replied. Then I looked at Martin's chest. "What about the Amulet of Kings?" I asked.
Martin touched the Amulet. "Wait. Yes." he replied. "The Amulet was given to mortals by Akatosh. It contains his divine power."
"But how can we use that power against Dagon?" I asked.
"I'm not certain." he replied. "The Amulet was not intended as a weapon."
A daedra came by, lunging right at Martin. I blocked it with my shield and the two of us killed the monster. "We don't have much time left." I said. "We can't keep this up forever."
"I have an idea." said Martin, "One last hope. I must reach the Dragonfires in the Temple of the One."
I thought he said the Amulet couldn't be used as a weapon. "But I thought you said...."
"You'll just have to trust me." he replied. "I now know what I was born to do. But I'll need your help. I have to get past Mehrunes Dagon somehow."