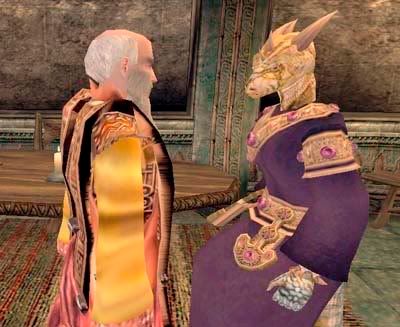 I could suddenly sense the smell of sweet flowers. I opened my eyes and found myself in the Palace reception hall. There, the Argonian Effe-Tei, greeted me.
"It wants something." he hissed, "What does it want?"
I asked him about the latest rumors of things going on.
"Ah, the old king, Athyn Llethan, is dead." he said. "Long live King Hlaalu Helseth. Things are pretty grim here in the City of Light since the troubles with Dagoth Ur. Mournhold is Almalexia's city, and she's become more of a Warrior Queen than a Lady of Mercy. And there's always been hostility between the temple and the Imperial administration, but since Helseth's accession, the tension between Imperial-leaning Dunmer and Almalexia's supporters is much worse."
I asked about any special customs to observe while I was here.
"This one must tell you, do not forget that you cannot levitate in Mournhold." he said. "They say Almalexia doesn't want anyone's head rising higher than hers. If that's how you avoid trouble, it won't work here."
"You mean I can't use it at all here?" I asked.
"Oh, you can use it down in the sewers and ruins of Old Mournhold." he replied. "Almalexia doesn't go there much, and doesn't care."
"What ruins?" I asked. "I thought this was the entire city."
"No, you would be wrong." came the reply. "Mournhold is the Imperial capital of Morrowind province, and the Holy City of Almalexia, one of Morrowind's three Living gods. Modern Mournhold is built upon the ruins of Old Mournhold, which was destroyed by Mehrunes Dagon at the end of the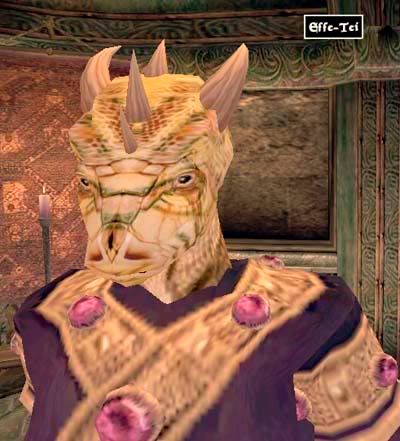 First Era. You can reach the abandoned passages of Old Mournhold through the sewers beneath Mournhold, where you will find treasures in the First Era ruins."
In my history books, I had heard about Mehrunes Dagon. He was responsible for assisting Jagar Tharn in his procurement of the Imperial throne, and had seized control of the Battlespire many years later. He was also responsible for the destruction of Mournhold at the end of the First Era, destroying Ald Sotha, Sotha Sil's (the third member of the Tribunal) birthplace.
He cautioned me about the sewers, advising me that there were creatures there that could kill me before I had drawn a weapon. Good advice, since I didn't bring any with me.
"Almalexia, one of the Living gods, lives in this very city, correct?"
"Yes," he replied, "She is one of the gods worshipped by the Dunmer in the Tribunal Temple. She's known as the Healing Mother and Lady of Mercy, the source of compassion and sympathy, and protector of the poor and weak. She's no tender-hearted powderpuff, though. She's an important symbol of Dunmer independence to those who resent the Empire, and the Hands of Almalexia - her personal guard - enforce a strict adherence to Temple doctrines."
Of course, my very existence as Hero of Vvardenfell contradicts that doctrine.
He advised me that if I needed to return to Vvardenfell, he would be glad to teleport me there. I thanked him for his assistance.