"My name is Narisa Adus." she said, in between sobbing. "Beware the Black Dart gang. They've robbed me of everything I hold dear."
"The Black Dart gang?" I asked. "I had never heard of them."
"We are adventurers like you, my lover and I." she replied. "They ambushed us here in the Temple Sewers. Variner held them off while I ran. Now, Variner's ghost comes to me at night, begging me to come to him, to rescue him. He says he has a message for me..." her voice trailed off, as she looked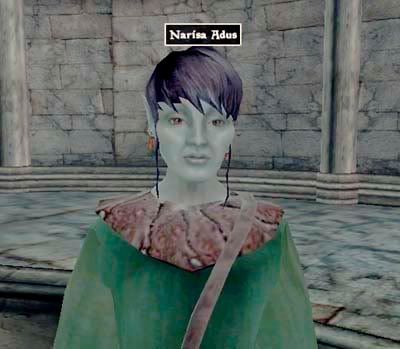 sadly at her feet. "But I........I just can't go down there."
She looked sadly at me. "I can't face the Black Dart gang." she continued. "Variner was a great fighter, but with one dart, he was dead in seconds. They'd kill me for sure."
I couldn't help but feel sorry for her. I was a on a mission of my own, and the Temple Sewers were no where near where I was, but still.....
"What can I do to help?" I asked.
She looked me over carefully, wiping the tears from her eyes. "I'm not sure." she said. "I've never seen anyone quite like you before, but I'm not sure you're a match for them. They dress like poor beggars, but they throw deadly poison darts."
"Well, I've encountered...." I started, but she held up her hand to stop me in mid-sentence.
"Just one is enough to kill you." she said. "If you run into them, make sure you have many cure poison and dispel potions. And if you see Variner's ghost, speak with him. Perhaps you can bring me his message. Please don't harm him. Just listen to him and see if he has a message for me.
"Well, I cannot make any promises, but I will certainly see what I can do to help" I said.
I gave her a hug and continued on looking for my own band of bad guys.