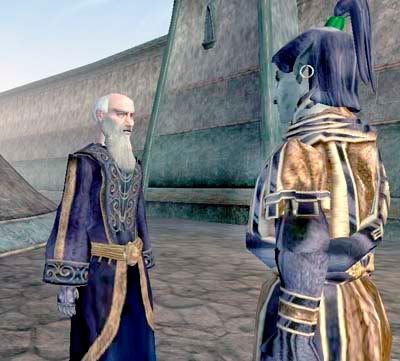 "Yes, I am Forven Berano." he said, "But I don't see how that matters to you."
I told him about my mission, and that, due to the evidence of conspiracy in my possession, he was under a writ of execution.
"Er, uh, I don't know what you're talking about." he stammered, caught off guard by my appearance. "This is obviously some kind of mistake....."
I tended to believe that Helseth was not as honest a King as he should be, so I decided to give this guy a break.
"Look," I said, "I'm not too keen on this new king of yours either, but the evidence is here, and if it weren't me, you'd be dead already. Tell you what - disappear, leave Morrowind province completely, and I'll report back that you've already left the area. Don't come back here, either. I'd rather not kill you."