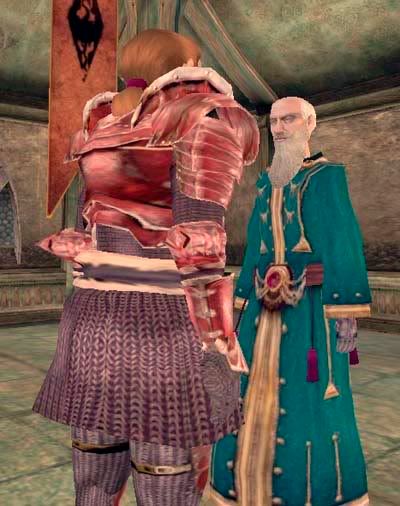 "What?!!!" he shouted, obviously upset, "All three of them have escaped? Oh, there must be a leak here at the Palace."
He gave a glaring look at each of his guards in the throne room, which none of them returned.
"Well, you've done the best that you could. I'll tell King Helseth that you tried. Now, I'd like your help finding the anonymous writer of 'The Common Tongue'. We'd like you to find him and persuade him to stop printing lies about King Helseth. When we make official inquiries, people just look stupid and assure us they have no idea what we're talking about. We think you'd have better luck - particularly if you approach less-reputable citizens - persons who place profit above honor."
I asked him to tell me more.
"First, we need you to ask around and find out who's writing these lies. Then we want you to find him and persuade him to stop printing these lies. The manner of persuasion is left to your discretion."
He got up close and personal. "You WILL be discreet, of course." he added, "We don't want to appear to be threatening the time-honored Imperial traditions of encouraging free speech."
"Oh, leave it to me." I said, not exactly knowing if I should even complete this mission. I felt Helseth was behind the attack on me, but there was still that cloud of uncertainty.