"How as she able to keep you alive?" I asked, intrigued by this story.
"If you've read the work," he answered, "you'll know that Queen Barenziah is many things - but she is not shy, and she is not ashamed of how her life was lead. She knew my work to be true, and I believe she felt a sense of amusement, if not satisfaction, at the tale's telling. She protected me from the Imperial family, and spread the word of my demise at her guards' hands. Since then, I have traveled with her under this name, acting as her scribe, her advisor, and dare I say...her friend. I could ask for no greater honor.
He leaned a bit closer, so the other people in the courtyard would not hear. "The only thing I would hope for is to one day be able to publish further volumes of the work, to chronicle the Lady's life after her marriage to King Eadwyre. Perhaps one day I will be able to, but I am old, and my time grows short."
He looked up at the sky, adding "Oh, that I could write fiction as great as the plot the Lady Barenziah has lived!"
I advised him about the queen's statement of who one should trust. When I mentioned that she had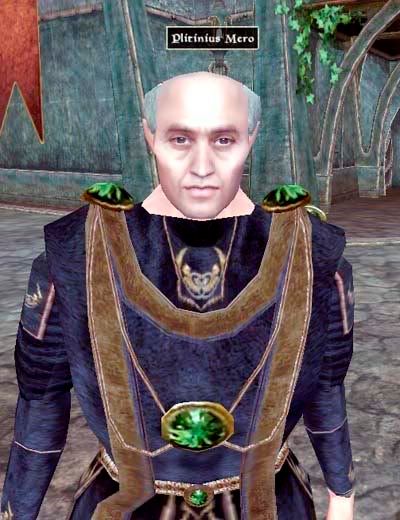 told me to speak to him as a trusted friend, he smiled, as if a great trust had been bestowed upon him - greater than he had ever thought he would be responsible for.
"If the Queen Mother considers you a friend, so do I." he said. "Her wisdom is vast, and I am eager to help her in any way I can. If you are in need of information on any topics, please feel free to ask. I'll provide you with what limited knowledge I possess."
I asked him about Tienius Delitian. He said that Tienius had been with Helseth since he was a child in the Emperor's court, that he was a career soldier, rising through the ranks quickly. He said that Helseth chose him to lead the Royal Guard because he was a fine warrior, as well as both a savvy politician and an excellent judge of character.
He said that the High Ordinators were much like the ones found in the city of Vivec, but much more dangerous, using weapons of deadly enchantment. He cautioned that provoking their anger was considered an unwise move.
Concerning Gavas Drin, he said that Drin became Lord Archcanon over 10 years ago, after the last one died of old age. Serving Lady Almalexia well, he had been rewarded with great power.
"I have been told to speak with Fedris Hler at the temple." I said. "What can you tell me about him?
Glad that he had some information that was of use to me, he replied quickly. "My research tells me that Hler has been with the Lady Almalexia for many years now, serving in an official capacity as her Steward. What these duties entail is not known to me, but there are rumors that he carries out some of the more, shall we say, 'unpleasant' chores for the goddess."
"And what of Almalexia?" I asked. "What can you tell me of her?"
"Almalexia is a member of the Tribunal." he replied. "You know, she was once the wife of Nerevar, and was considered to be one of his most trusted advisors. She resides here in Mournhold, and is much loved by the people here."
And here, I was Nerevar reborn. Won't that be interesting, once we meet.