Interested in finding out what I could do for Fedris, I asked him how I could be of service to Almalexia.
"Perhaps you have already met young King Hlaalu Helseth." he said.
"No, I have not met him personally, as of yet." I replied.
"A foul man, unworthy to sit on a throne." he replied. "Still, he holds right of succession. The Lady must keep an every-watchful eye on this King, though, lest he do something that would be detrimental to the Temple, our fair city, or perhaps all of Morrowind. Currently, there are concerns about some new recruits that Helseth seems to be training."
"You mean like recruits to an army?" I asked.
"A standing army is nothing new in the city, through it is largely unnecessary." he replied.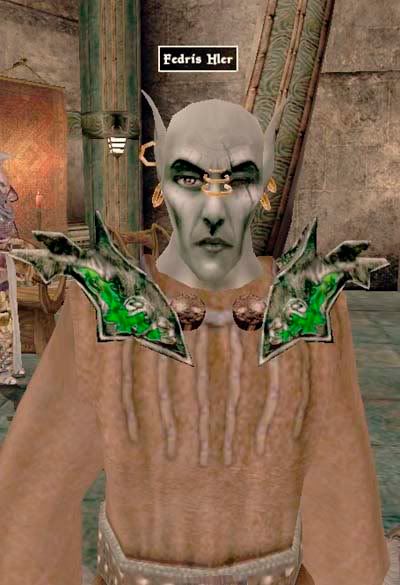 "Mournhold is protected by her walls from the outside, and by our Lady Almalexia from within. None would dare mount an attack here. Still, tradition dictates that the king maintains an army."
"What is so odd about that?" I asked, wondering where this was going.
"We believe that Helseth is raising quite a different sort of army." he replied. "A goblin army."
I didn't know what to say, and I guess he could see that by the look on my face. I had come up against a few of these goblins in the sewers already. By themselves they were already pretty dangerous. Armed with weapons and armor, well, it would be like an army of mad dogs, dangerous to anyone, even possibly the one holding their leash.
"Foul, vicious creatures." he said, seeing the look of obvious concern on my face. "No wonder Helseth has chosen them to be his footsoldiers. I know that the goblins are being trained nearby, through not where, exactly."
"How will I find out where I can find them?" I asked.
"Ask around the city about goblins. Someone will know. I wish for you to find the location of the goblin training area. When you do, kill the warchiefs - there should be two of them. Sever the head of this army, and the rest will shatter like a scrib. You might rid the city of their two Altmer trainer, as well. Complete this task, and the Lady will be pleased.
"They use Altmer to train these creatures?" I asked.
"Yes." he said. "Traditionally, the Altmer have used goblins to reinforce their armies. Why, I do not know. Rumor has it that Helseth has contracted two Altmer to train his goblin army. If you find these two, it would be a service to rid the city of them as well."