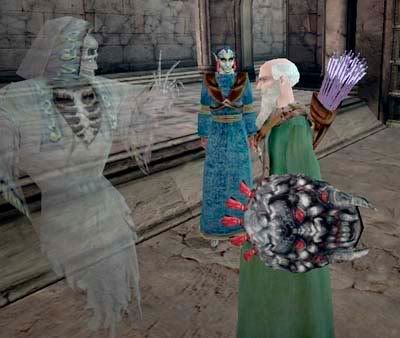 Urvel was dumfounded. "You know this spirit?" he asked.
"Hush." I said, "Listen to what he has to say."
The spirit continued. "Many have died fighting them. But there is a mechanism that can flood the room, drowning the gang. Find a lever that looks like a torch holder, near the east end of the chamber. But whatever you do, don't get too close, or you will join me in the afterlife."
Urvel looked anxiously in my direction. "We're not going after the Black Dart Gang, are we?"
"No, not yet." I replied. "We have our own mission to accomplish first. I'll have to deal with the gang later." Needless-to-say, he gave me a very relieved look.