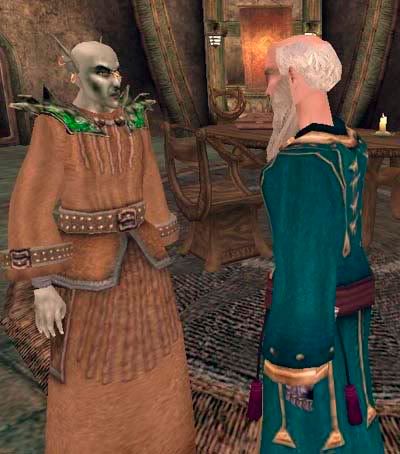 Fedris Hler was surprised to see me. "Drin sent you to me?" he asked. "Priests...hmph!" He checked a small notepad he had with him. "As it happens," he continued, "there is another way you may be of service to our Lady Almalexia."
"And what might that be?" I asked.
"I spoke with the Lady earlier today," he replied, "and there may be something that one of your skill will be able to help with. The Lady Almalexia would like you to retrieve a powerful artifact - Barilzar's Mazed Band."
"An Amazing what?" I asked, not quite getting the name.
"He he, no," he replied, catching my sense of humor. "Barilzar's Mazed Band. All I know is that the goddess wants it returned. You'll find it in the ruins beneath the Temple."
Everything seems to be in ruins beneath this entire city, it seems.
"Search to the northwest in the sewers. There was a passageway in the Abandoned Crypt that had been blocked off by a cave-in." he said.
"I had just recently explored that." I said. "There was evidence of a recent cave-in there, as the passage way was blocked by huge boulders."
"Correct." he responded. "Almalexia just had that area cleared, but the area beyond that cave-in had not yet been explored by the workers. As for the item itself, I don't really see why you'd need to know any more about it, but if you're curious, you might ask Gavas Drin, as he could provide more details on it."