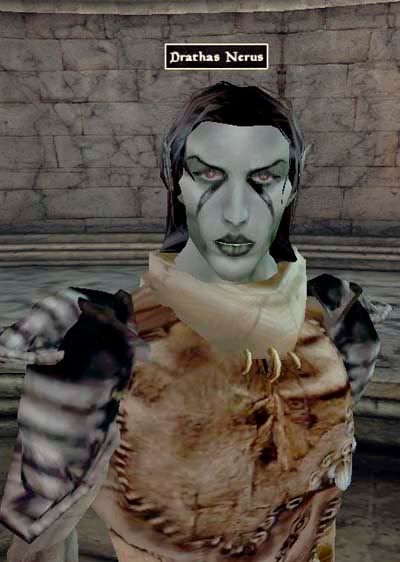 No one attacked, but Drathas Nerus, their apparent leader, spoke up upon seeing me.
"Well, well, look what the scrib dragged in. I supposed you're here to rescue our little Dilborn, eh? Then I suggest you don't make any sudden moves."
He pointed back to his guards, and Dilborn, wearing nothing but his underwear.
"You see, when people owe me money, I get a bit touchy. Attack me, and my men have orders to kill Dilborn first - poor, naked, defenseless Dilborn. But if you're here to settle Dilborn's debits, we may be able to work something out."
"So, he owes you money?" I asked. Thrud wanted to attack, but I gave him a warning glance that froze him in his tracks better than any spell ever could.
"That's right, Breton." continued Drathas. "We indulge in a bit of gambling down here from time to time, away from the prying eyes of the guards, you know? Dilborn is one of our best customers. He currently owes .... if my memory serves me right ... Yes, Dilborn owes me the sum total of 3,000 septims. And he's not leaving here until he pays his debts."