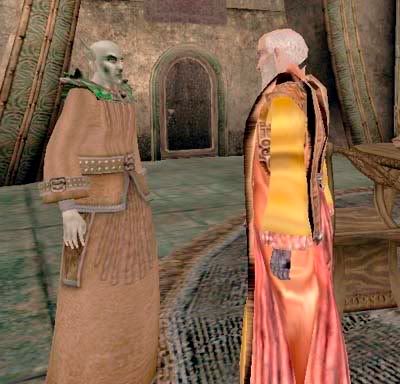 Several High Ordinators rushed by me as I entered the Temple. Fedris called me over to where he was standing, giving a few more instructions to two more Ordinators.
"I've heard about the attacks on the city." he said. "Good that you reported them to me, though. I've sent some High Ordinators to deal with the situation. You can help me in another way, however. I want you to investigate the disturbance."
"Certainly." I said. "How can I help?"
"These attacks are an affront to this city and to the Lady." he continued. "We must learn more about them. I understand that a passage has opened up in the Plaza that leads to some Dwemer ruins. The Memorial Statue has been destroyed, and an entrance has been discovered in the rubble from which the creatures emerged. Perhaps these things are of Dwemer origin - I have been told that they look at least partially mechanical."
"They're definitely mechanical." I replied, "However, they don't look 'Dwemer' to me on first glance."
"You might be right." he said. "However, we must know for certain what we are dealing with. Investigate these ruins, Eldorf, and report your findings to me immediately."