Did I say quiet dignity and grace??? The room shook with her outburst.
"THEY WOULD DARE???" she responded.
I just stood there, wondering just how quickly I could make it to the door.
"So, the Tribunal has lost its power, has it?" she continued. "These fools would dare question Almalexia's power, here in her city! I will give them a lesson in power, Eldorf Dragonmeal, and you will be my agent."
She made a motion with her hands and produced an item of Dwemer origin.
"These fools must be reminded of the true power of a god." she continued. "Since the attack on the city, much of my own power has been spent caring for my people. The number of wounded has been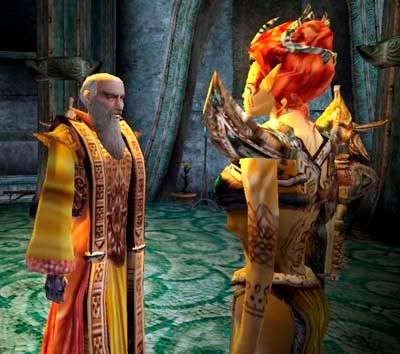 astronomical, and caring for them all has been taxing to even me. Still, I must demonstrate to these people what it is to mock the will of a god."
Her gaze turned to me in a stern fashion, and she continued, "You will travel to the ruins of Bamz-Amschend and activate the Karstangz-Bcharn."
"Uh, the what?" I asked, giving her a completely blank stare.
"Karstangz-Bcharn." she repeated. "Loosely translated: The Weather Witch. At its height, the Dwemer civilization was masterful in the use of machinery. In a time of drought, Dwemer scholars were commissioned to create a machine that would bring rain to their lands. They created the Karstangz-Bcharn. Its existence was little more than a myth until recently, when the ruins opened beneath my city. I wish for you to activate the machine, make it to create ashstorms in Mournhold. Then, these heretics will know the power of Almalexia!"
"Ashstorms." I said, "Here, in Mournhold?"
She nodded. "That's correct." she added. "While these storms may be common on the island of Vvardenfell, they do not occur here, so far removed from the Red Mountain. Now, though, they will, and these heretics will understand the power of the Tribunal. The power of Almalexia!"
She handed the Dwemer device to me. It was a powered Dwemer Coherer.
"Take this." she said, Use it to activate the machine. You will have to divine its workings on your own, but I believe you are up to the task."