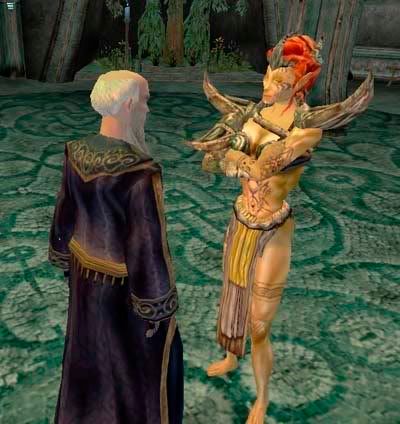 "You seem to have both of your .... oh, you mean one of your special guards." I said, correcting myself.
"Yes," she explained, "one of my most faithful guards, one of my very own 'Hands of Almalexia', pledged to honor, protect, and serve me in all ways, has lost his mind. Salas Valor has abandoned me, and now spews vile and slanderous untruths about me to any who would listen. I pity him, and know he is not responsible for his actions. To view the splendor of a god may drive even the strongest mortal mad. But now he presents a threat to us, and he is very dangerous. I fear you may not be able to spare his life."
"Where would I find him?" I asked, expecting to take a romp in the sewers again.
"He haunts the streets and sewers of Mournhold." she replied. "His wild distracted manner frightens the people, but even my Ordinators are afraid to confront so terrible a weaponmaster and war-wizard. I beg you - seek out Salas Valor. Relieve us of this treat to my beloved people, and bring peace to my sacred city of Mournhold."
"What can you tell me about him?" I asked.
"He was once my most trusted Hand, and faithful servant. But recently his behavior has been erratic. He has been quiet and unresponsive. I am afraid ... I may have allowed him to come too close. It is impossible that a mortal and a god might meet on equal ground, but ... perhaps he deluded himself. I regret his lamentable state, and am sorry that I may have been partly responsible for his condition."
"I will see what I can do about him." I replied.