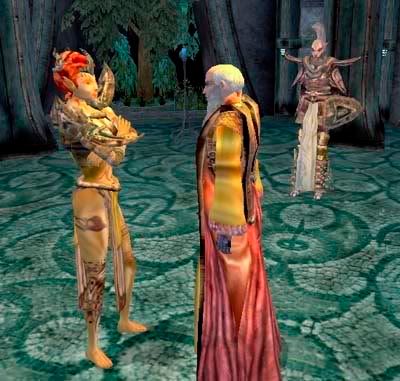 I found here in her chapel, just like the last time. Almalexia was pleased to see that I wasn't dead.
She gave me a divine blessing of "Skin Like Iron", always useful against swords and sharp fangs, especially since I don't often use armor. It was then that she spoke of a very important matter.
"I have been watching you since your arrival in Vvardenfell," she said, "and you have been a strong and faithful servant to me. None but the Nerevarine could have succeeded as you have. How long I have waited for this! My Nerevar, returned to me at last! I have watched from my Temple as others have made the claim, and I have seen them fall. I believe now that you are the one who was prophesied."
I was awe-struck at this pronouncement. Then I remembered from the ancient history texts that Nerevar and Almalexia were married at one time.
This would be VERY hard to explain to Laurenna.
She continued, "I believe you now to be the Nerevarine. Though I have watched others come and go, my belief is that you are the child of prophecy. The time has come for you to reclaim your station. Together we can unite Morrowind once again, free from the Imperial yoke."
"Excuse me." I said, "Reclaim my station?"
"Yes." she replied. "For years, the Chimer and the Dwemer had been at war. The Dwemer spurned the Daedra that the Chimer worshipped, instead placing their faith in their metal creations. It was only when the Nords invaded Resdayn that the two nations were able to join as one, under the leadership of our Nerevar and the Dwarf-King, Dumac. In time, the two generals became blood friends, and on the day that Nerevar and I were wed, Dumac presented us with twin blades, Hopesfire and Trueflame. Each was a magnificent blade, the pinnacle of Dwemer craftsmanship. Their blades burned with an unearthly fire, and the sight of them struck fear into our enemies."
"I understand." I said. "Where are these blades now?" Her face took on a sad look at the question.
"My blade has been kept safe," she replied, "but not so Trueflame, the Blade of Nerevar. It was lost at the battle of Red Mountain."
"So the blade is somewhere in the Red Mountain region then?" I asked.
"No." she replied. "In the battle beneath Red Mountain, Trueflame was shattered, the flame extinguished, and in the confusion, the pieces lost, possibly gathered by those looking for souvenirs of the battle. It is time for you, Nerevarine, to remake the blade and take your place by my side once again."