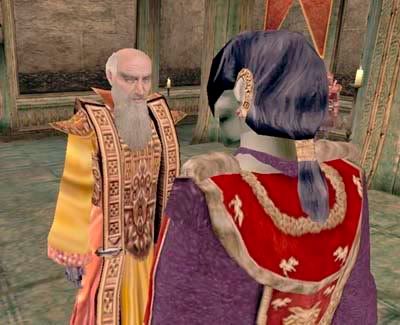 Helseth was happy to hear that the queen had been protected so well.
"You were able to hold off the assassins. Interesting." he said, stroking his chin again. "Perhaps the threat was not as great as it seemed. We commend you. Take this as a show of our appreciation. We are impressed with your efforts so far."
He gave me an artifact called "Helseth's Collar". I would check it out later to see what enchantment it contained.
"By your actions so far, you have proven yourself to be both strong and loyal to our throne. It is now time for you to prove yourself to me. Personally. I have plans for you, Eldorf Dragonmeal, and it is almost time they were put into motion."
"I was under the impression that this is what I had been doing all this time." I said, in a half-joking tone. I don't know if the got the joke or not.
"I require all those close to me to be powerful, able to defend me from any adversary." he replied. He pointed to one of his guards nearby. "Perhaps you have met my personal bodyguard, Karrod? He is a perfect example: The finest fighter I have met in all my travels, and loyal to me to the death."
"I have not met him personally, but I have seen him here constantly." I replied.